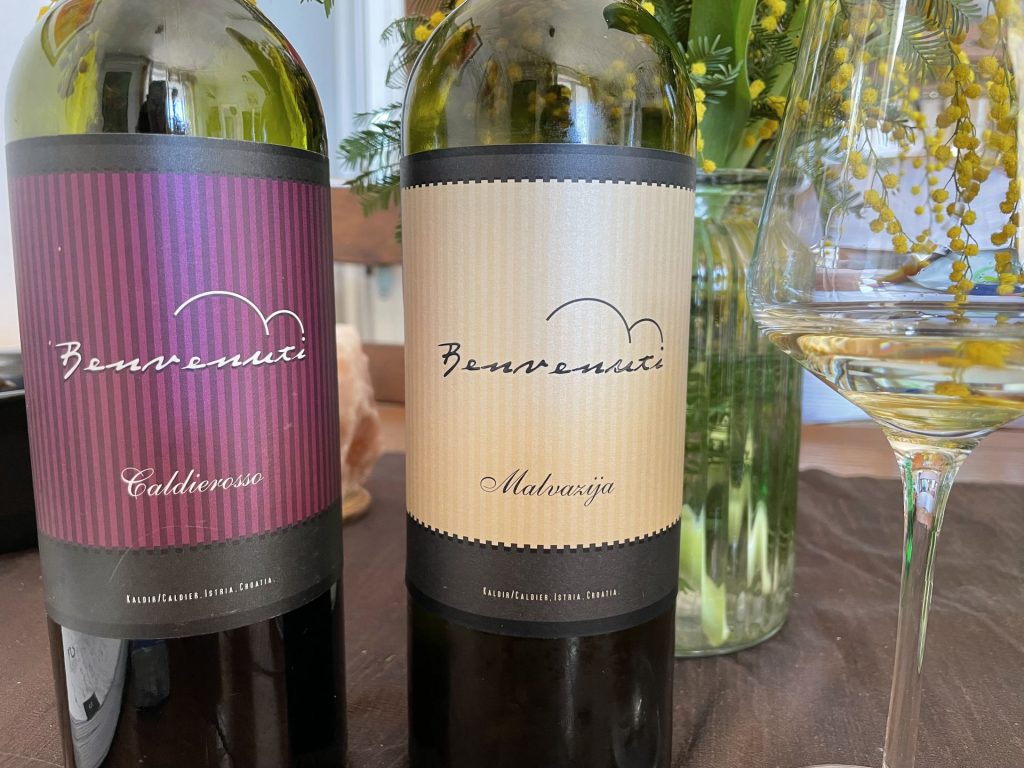 Benvenuti Winery: Benvenuti Malvazija 2019, Benvenuti Caldierosso 2018
Benvenuti Winery from central Istria is a family operation with a long history. The first family vineyard was planted back in 1946. Today's modern winery started in the year 2000 with the vintage 2003 being released on the market first. Their main variety of focus is Malvazija Istarska or Malvasia Istriana, the pride and joy of local vintners, but they also work with Teran and a few other varieties. Benvenuti Winery produces around 100000 bottles per year.
Istria is known for beautifully balanced white and red wines that are elegant and inviting. This is something that is not easy to replicate year after year. Thankfully, wineries like Benvenuti are on a mission to do exactly that and to attest to their success, here are two of their wines as we've tasted during February 2022.
Benvenuti Malvazija
Vintage: 2019
Variety: Malvazija istarska
Alc: 13%
Tasted: February 2022

The colour of this wine is reminiscent of pale lemon. It is of medium intensity. The wine is clear.

On the nose this wine exhibits aromas warm lemon, elderflower and acacia flowers, hint of marzipan, sour apple and vineyard peach. There is a trace of salty minerality on the nose as well. It is an inviting combination promising a lively wine.

Malvazija Benvenuti is indeed pleasant on the palate. Medium acidity creates a lovely combination with fruity extract, aromas of which follow the nose. There is more pronounced minerally character on the palate than on the nose. With medium duration and slight warming of the alcohol, it is a true Istrian medium bodied white. It starts off simple and inviting, but each subsequent sip uncovers a new note and urges drinker to explore further.

For good pairings, look to seafood appetizers with plenty of salinity and freshness. Grilled fish, especially sea bass, bream or John Dory will also do amazingly well with this wine, especially when not combined with tomato based sauces. Spring salads with soft or salty cheese are another option you will not go wrong with.
Benvenuti Caldierosso
Vintage: 2018
Variety: Teran (50%), Merlot, Nebbiolo, Tempranillo
Alc: 13%
Tasted: February 2022

Benvenuti Caldierosso is of mature ruby colour with subtly lighter edges. Wine is clear.

Lovely aromas on the nose display a mix of red and bark berry fruits. Dark cherry, sour cherry and blackberry dominate. There is a hint of sweet spices and black pepper as well as an aroma reminiscent of violet florals. Overall, the nose is warm and inviting.

Benvenuti Caldierosso is juicy and refreshing on the palate with lovely acidity and medium velvety tannins. Acidity makes this wine easy to drink, but drinking it fast would be a mistake. While it is a lovely food wine, it is also wonderful on its own, especially for those discerning drinkers that will want to take their time and go into this wine's nuances. The wine is of medium duration and leaves the palate graciously. There is some ageing potential to Caldierosso, but the point of this wine is not to wait too long.

Wonderfully versatile, this red blend pairs with red meat dishes, lamb or veal roast, tuna steak, barbecue meats and similar. For non-meat options, look to tomato based pastas and pizzas.
Our full tasting and conversation with Benvenuti brothers: