Winery: Terra Madre Winery + a Few Very Special Bottles
Terra Madre winery is a part of Komarna wine region, youngest region in Croatia. It is also one of the most exciting wine regions. It has an immense potential that wineries like this one are only beginning to scratch the surface of. Komarna wine region produces organic grapes of amazing quality.
In Terra Madre they go about processing these grapes in their modern winery, established in 2008. It is set on a rocky hill, overlooking deep blue Adriatic sea and Peljesac Peninsula, Komarna's renowned neighbour. The process of making this karst terrain suitable for a commercial vineyard was long and difficult. It involved clearing and grinding limestone boulders in an effort to uncover a thin layer of red soil that the vines are now planted in. The result is a textbook South-Dalmatian vineyard. It is steep, with great exposure to both the sun (this region sees around 2500 sunshine hours per year) and the cooling effect of air currents regulated by the sea.
Terra Madre Winery Vineyards
Komarna wines are known for their refreshing acidity, a quality that is difficult to come by in the far south of Croatia. With so much sun shining on the vines, sugars in the grapes rise sharply as the harvest approaches. Simultaneously, acidity goes down. Seeing how acidity is one of the key elements to make wines more refreshing, but also age worthy, this is a very important characteristic of local wines indeed.
Terra Madre vineyards are mainly planted with two famous Croatian grape varieties: Pošip and Plavac Mali. However, the winery also grows Syrah, Cabernet Sauvignon, Chardonnay and Zlatarica (local variety) which are mainly used to make blend wines to complement the aforementioned Pošip and Plavac Mali.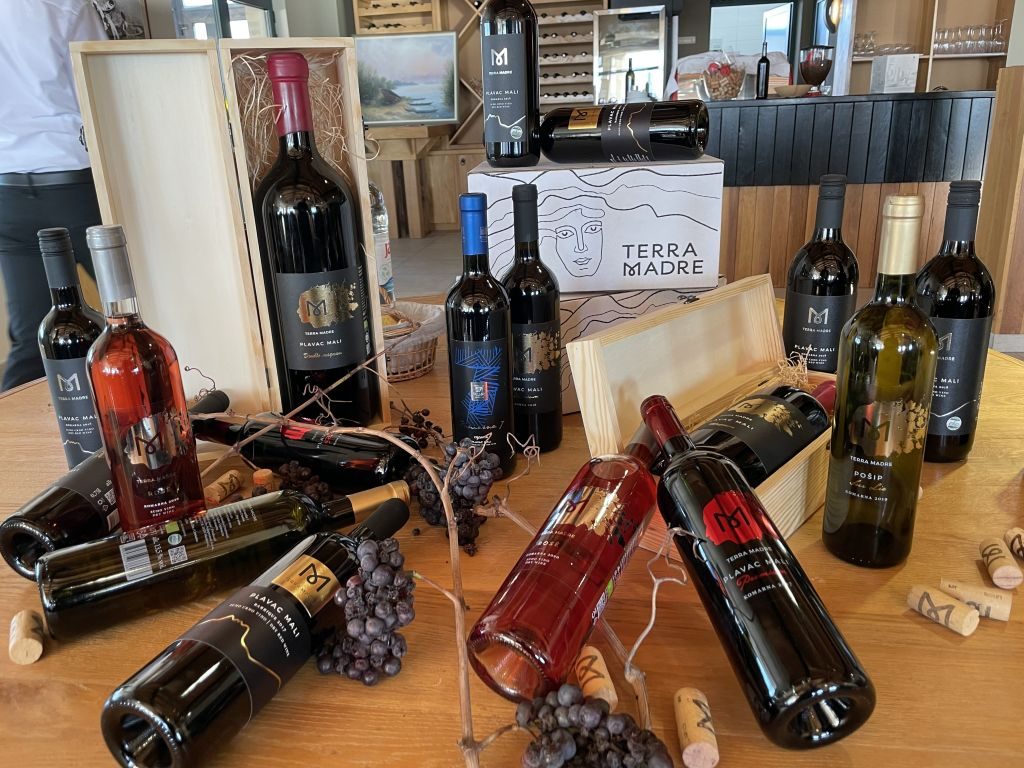 I've thoroughly enjoyed my visit to Terra Madre winery and their beautiful tasting room. All of their wines are certified organic. The following are several wines that caught my attention the most.
Terra Madre Pošip Premium 2018
Vintage: 2018
Variety: Pošip (85%), Chardonnay (15%)
Alcohol: 13%
Tasted: December 2021

Colour of this wine is reminiscent of pale lemon and is of medium intensity. Wine is clear.

On the nose, Terra Madre Pošip Premium is clean and medium in intensity. Dominant aromas are those of yellow apple, warm lemon, apricot and dandelions. There is a hint of buttery softness to this wine.

Terra Madre's Pošips display plenty of Komarna's acidity. Pošip Premium 2018 is no different. On the palate, the wine is rich in aromas, but at the same time refreshing and lively. There are plenty of citrus and stone fruit notes that last for a while. This Pošip is of medium finish and medium body. Few years of ageing have made it softer and well rounded, but this wine still shines the brightest when paired with food.

Speaking of food, there is plenty of local food that would pair wonderfully with this wine. Fresh oysters, cold seafood appetizers, grilled sea bream are all great pairing, albeit a bit obvious. Ample body of Pošip Premium 2018 will ensure it works wonderfully with creamy pastas or gnocchi, grilled chicken, turkey or even pork cutlets.
Terra Madre Pošip Sur Lie 2017
Vintage: 2017
Variety: Pošip
Alcohol: 13%
Tasted: December 2021

The colour of the wine is lemon going to gold. It is of medium intensity and is clear.

It's a rich wine with aromas of ripe apple, ripe lemon, dried apricot and mango. There are also hints of smoky aromas and those of sweet spice pointing to oak barrel ageing.

Smooth and ample. Pošip Sur Lie 2017 hits you with plenty of flavour. Vanilla, apricot and lemon dominate the mix. Medium acidity makes this white wine with 13% alcohol content lively and refreshing. With long finish and such an abundance of different aromas on display, this is a serious wine with serious ageing potential.

Food pairings include creamy seafood pastas and crustacean dishes with Adriatic lobster being at the top of the list. This wine will do well with poultry and pork dishes as well. It would do great with cheesy pizzas.
Terra Madre Plavac Mali Premium 2015
Vintage: 2015
Variety: Plavac Mali (85%), Syrah (10%), Cabernet Sauvignon (5%)
Alcohol: 14%
Tasted: December 2021

The wine is of lovely mature ruby colour.

On the nose, this Plavac exhibits aromas of sour cherry, blueberry, leather, hints of balsamic and herbaceous notes. It clearly communicates it is a Plavac Mali through the mix of red and dark berries on the nose, but often typical aromas of sun dried figs, raisins or carobs are left out which many will find a welcomed change from those Plavac wines from the hottest areas.

On the palate, Terra Madre Plavac Mali Premium 2015 really shines. It is full bodied, yet elegant, with plenty going on. The tannins are smooth and compliment the wine perfectly. Acidity is still high enough to ensure this wine can age wonderfully for at least 5 to 10 years more. Along with fruity flavours which follow the nose, more prominent notes of vanilla can be detected in the mouth.

This Plavac will pair wonderfully with beefsteak, Dalmatian Pasticada (beef fillets in thick vegetable and dried fruits sauce), wild boar stew, blue cheese, dark chocolate (70% cocoa and over), or various charcuterie selections especially the ones dominated by prosciutto and sausages.
Terra Madre Plavac Mali 2011
Vintage: 2011
Variety: Plavac Mali
Alcohol: 15,6%
Tasted: December 2021

The wine is of ruby colour with garnet edge. It is of medium intensity.

Terra Madre Plavac Mali 2011 is fruity and spicy on the palate. It features aromas of blackberry, blueberry, violet, black pepper and sweet spice. All these are very well integrated into a pleasant unison that reveals, right from the start, this is a wine refined by ageing.

Wine is energetic, juicy and inviting. Fine grained tannins are silky and pleasant. Ample alcohol makes itself known by the characteristic warming sensation but is far from overaccentuated. Seeing how this is a 15,6% alcohol wine, it boasts a wonderful balance and good potential for further ageing. Finish is long and each sip leaves you wanting another one.

This wine would pair wonderfully with red meat dishes. It would go great with quality beefsteak with no heavy sauces. Roasted rack of lamb with rosemary potatoes would also be one of the best choices for food pairing as would Peka or "meat under the iron bell" as this traditional Croatian dish is usually translated. For an alternative to meat pairings look to grilled blue fin tuna steak or even cream of truffle pasta.