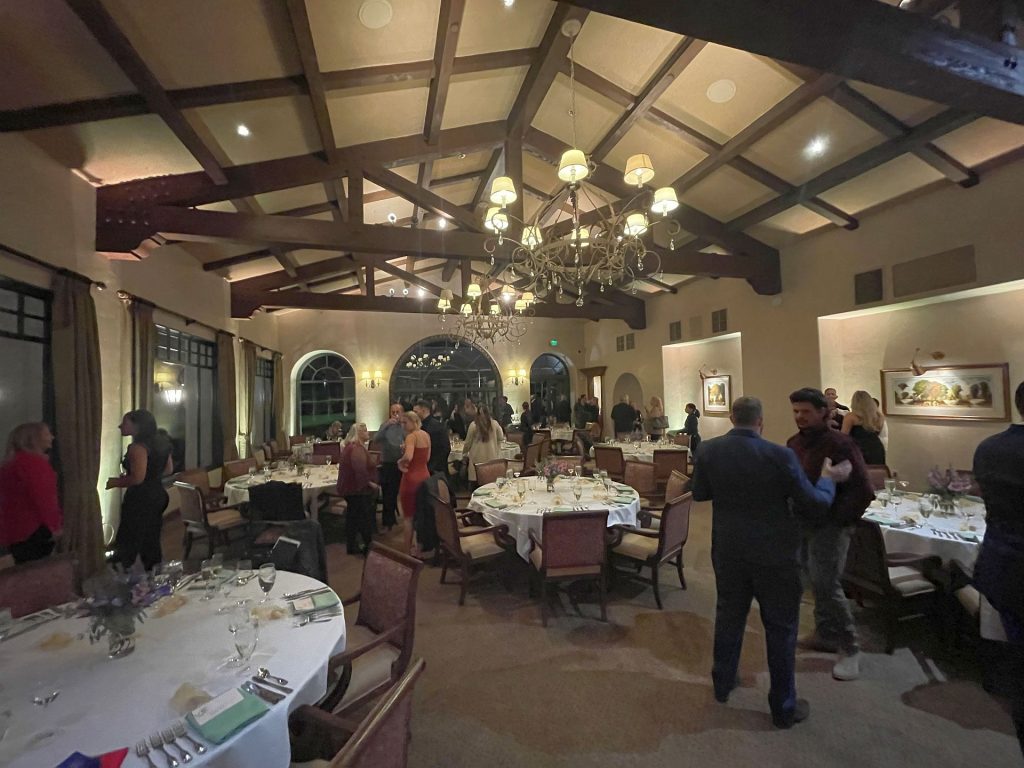 Zivjeli! – Croatian Wine Event in Los Angeles Area
Wines featured on the dinner were:
It is always a special pleasure doing a Croatian wine event outside the borders of our country, but it is even more special when you get to meet Croatian expats abroad on such an occasion.
Croatian Wine Event
Our last trip to United States of America was a great success. The main wine event we've took part of was in Los Angeles area. Croatian St. Anthony's Church gathers some amazing people. Our Bozidar Jukic was invited to host a special fundraising event in South Hills Country Club in West Covina. Mr. Niko Rudela was instrumental in organising the event together with Ms. Marilyn Majich. With the support of the country club's amazing F&B team and with wine's provided by our favourite Croatian wine suppliers Croatian Premium Imports, the evening was a great success.
Three Stars Brut, Jagunić
This is a wine from the only Croatian sub-region famous for sparkling wines – Plesivica. This hilly picturesque area south of Zagreb boasts refreshing, yet complex sparkling wines. This one fits that description perfectly. Made using traditional method, the one used to produce French champagne, Three Stars Brut is a perfect wine to start the evening with. Jagunic Family Winery created a lovely wine that you can either have with food or on its own before a meal.
Order this wine in USA (use our promo code "bo" to receive 10% off your first purchase!)
Grasevina Krauthaker
Vlado Krauthaker is one of the most important winemakers in modern Croatia. This Slavonian wine master creates some of the most important white wines of the county. He crafted a profile of Grasevina wines that are widely seen as the gold standard for this, the most abundant, variety in the country. Grasevina Krauthaker is one of Croatian bestsellers. Anyone tasting this wine will immediately understand why.
Order this wine in USA (use our promo code "bo" to receive 10% off your first purchase!)
Malvazija, Fakin
No major wine region in Croatia is as revered with local wine lovers as Istria. Winemakers of Istria were the first in Croatia to elevate the quality standards and bring them up to the level of much more important wine countries of the Old World. It is therefore very difficult to stand out in Istria, especially when working with the most common local variety – Malvazija Istarska. However, Malvazija by Fakin Winery does exactly that. Recent gold medal at the Decanter World Wine Awards is the best proof
Order this wine in USA (use our promo code "bo" to receive 10% off your first purchase!)
Tribidrag, Rizman
Tribidrag is one of the names of the most famous variety to ever come out of Croatia – Zinfandel. Ever since the discovery of Zinfandel's Croatian origins, these grapes have been gaining more importance throughout the Dalmatian region. Rizman Winery's Tribidrag nurtures the variety's fruity character with spicy aromas gained through oak aging acting as a backdrop. This wine boasts lovely structure and is an amazing food wine.
Order this wine in USA (use our promo code "bo" to receive 10% off your first purchase!)
Plavac Mali Syrtis Gold Edition, Volarević
Plavac Mali is the king of red wines in Croatia. This indigenous variety is known for big reds of powerful structure. Komarna sub-region is the youngest vineyard area that produces top quality Plavac Mali wines and Volarevic Winery is the one to look out for in Komarna. Their Plavac Mali Syrtis Gold Edition is rich with aromas of red and dark berry fruit, chocolate and sweet spices. This is a strong wine. Its ample alcohol is in perfect balance with lively acidity and bold tannins. Plavac Mali is as rugged as the terrain upon which it is grown. It will leave no one indifferent.
Order this wine in USA (use our promo code "bo" to receive 10% off your first purchase!)