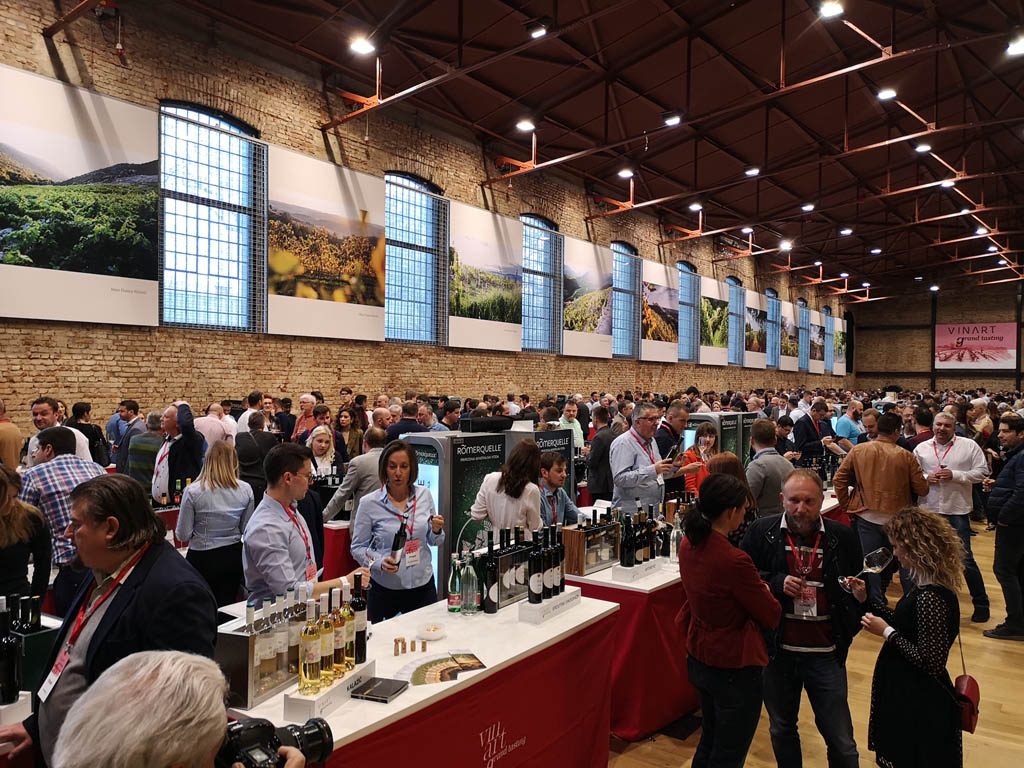 Report: Vinart Grand Tasting 2020 Report
With Corona scare on everyone's mind, it was clear that this year's wine exhibitions might suffer. Indeed, just a few days after Vinart's Grand Tasting 2020 we've started getting news of wine events around Croatia being cancelled or under serious threat of cancellation. Thankfully, Grand Tasting is one of the key wine events in Croatia and it became apparent early during the first day that people are simply not scared enough to miss this one.
In a wonderful setting of Zagreb's art / event space Lauba http://www.lauba.hr/en/ , it seemed business was as usual. Grand Tasting managed to gather renowned names of Croatian winemaking world which were keen on presenting some of the best examples of currently sold vintages. As in the year 2019 the number of those exhibiting was set at 120, even though there is a mounting pressure every year for more spots to become available. Vinart, the organisers of the tasting, are very much dedicated to preserving the quality standards of the event itself.
Croatian winemaking was presented well, regardless of the wine region. As always, the diversity among the regions is such that it is hard to pinpoint specific trends emerging. I did notice plenty of wineries in the south of the country going for lighter versions of red wines. This is tied to strong focus on foreign visitors to the coastal regions that often come to Croatia with their palates accustomed to much lighter reds than those we traditionally make in Croatia. Also, the new generation of wine drinkers in Croatia is nowadays drinking not just local, but plenty of foreign wines as well. This is changing traditional taste and preferences of the domestic market.
Plesivica still holds the title of Croatia's No1 sparkling wine region with some amazing wines being offered by the lights of Tomac, Kolaric, or Kurtalj wineries, to mention just a few. Slavonia and Istria are continuing to hold their positions as major regions on the scene with very well crafted, easy to sell wines.
Two upcoming regions, north-western Medjimurje and southern Neretva (Komarna) seem to be doing a great job in development of their unique terroirs. Neretva River Delta is producing some of the more interesting new wines coming out of entire Dubrovnik-Neretva county. On the other hand, Medjimurje is continuing its strong and well organised campaign of capturing a part of the local market with light, crispy whites that also tend to be very affordable.
It is very re-assuring to see young winemakers making a difference with some exciting wines and fresh ideas coming out of wineries like Provic, Crvik, or Ante Sladic Vino. I will be reviewing some of their wines in near future as well as many of the wines I've tried on Grand Tasting 2020.
One last trend noticed on this event that I was always very passionate about is the design of the labels. It seems Croatians have finally completely embraced the fact labels sell the wine as much as anything else and there were some beautiful labels and beautiful bottles to be seen in Lauba.
All in all, it was another successful Vinart Grand Tasting and a guarantee we have an exciting rest of the year when it comes to wineloverscroatia.com