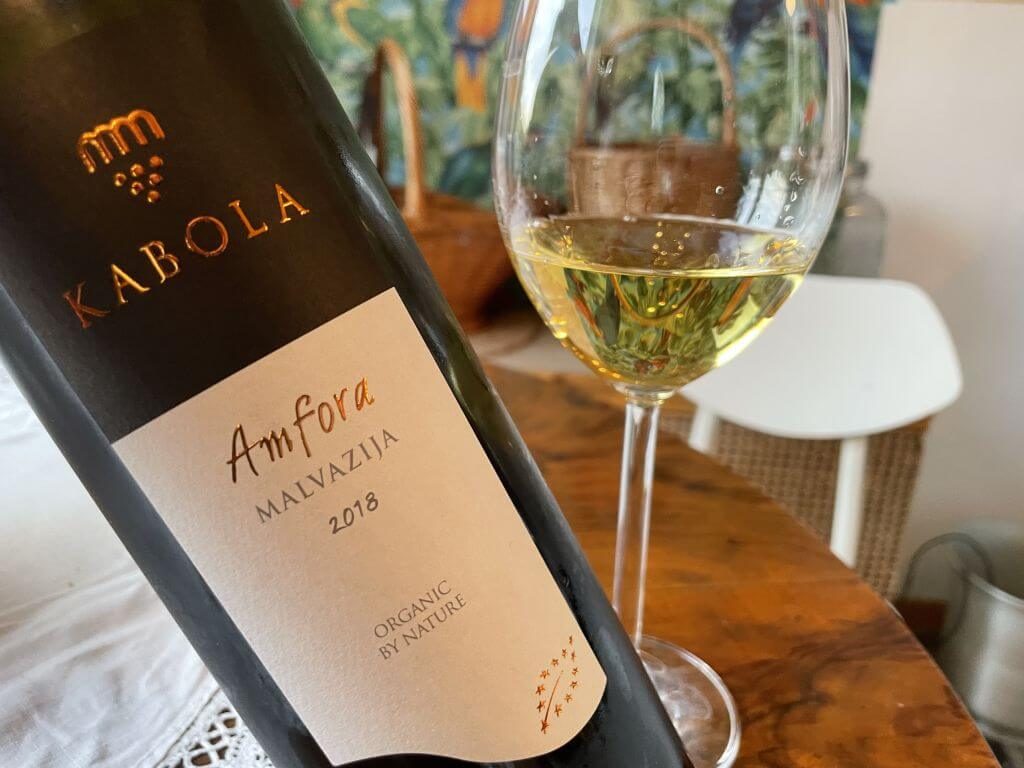 Kabola Winery: Re Brut, Amfora Malvazija 2018
Kabola winery is a name synonymous with quality. Croatian wine lovers will know them as one of the shining examples of Istrian winemaking. The winery is in Kanedolo area, close to Momjan. They produce wonderful wines using several varieties with the most emphasis put on the indigenous varieties Malvazija Istarska (Malvasia Istriana) and Teran, but also doing great things with Moscato di Momiano which was just protected as a PDO on EU level. During our live tasting hosted by @girlsdrinkwinetoo
Kabola Re brut
Vintage: non vintage
Tasted: November 2021
Variety: Malvasia Istriana 80%, Chardonnay 10%, Pinot Noir 10%
Alcohol: 12,5%
This traditional method sparkling wine has spent 36 months on the lease. So far, it is the only sparkling wine produced by Kabola Winery.


Colour is of medium intensity. It is a gentle lemon colour with a greenish undertones. Pearlage is medium intensity, lively and fine.

Re lets you know it is a traditional method sparkling right from the start. Pleasant fresh pastry aromas intertwined with citrusy and stone fruit aromas dominate. There is a slight buttery touch to the wine as well that hints it might not be straight forward palate-cleanser.

Dry and crisp, but never too simple. It is wonderfully fruity with a constant light motif of stony minerality. With a hefty medium finish and plenty of aromas to experience, this is a medium bodied sparkling wine that will be very versatile. You will do well do enjoy it as an aperitif or a thirst quenching beverage by the side of the pool, but it also has plenty to offer for those looking to pair it with food.

Speaking of food, this wine is recommended to have with raw seafood like oysters, fish carpaccio, ceviche, sushi and similar. It could also be beautifully paired with various other dishes such as prawn and zucchini pasta, tempura prawns or tempura vegetables.
Kabola Malvazija Amfora 2018
Vintage: 2018
Tasted: November 2021
Variety: Malvazija Istarska (Malvasia Istriana)
Alcohol: 13%
Kabola Malvazija Amfora, as the name suggests is fermented in clay amphorae dug into the ground with skin contact, taking inspiration from traditional Georgian winemaking. Winery ages the wine in large oak barrels after fermentation before they release it on the market.

Colour of the wine is reminiscent of pale gold or straw. It is of medium plus intensity and is clear.

Ripe fruit on the nose, going to fruit compote. Quince, orange peel, dried apricot and a hint of cantaloupe. Sweet spices are also very present with vanilla and star anise being the first to come to mind. There is some herbaceous notes and a hint of dries flowers.

It is a wine of pleasant mouthfeel. It has a lovely structure with soft tannins and boasts wonderful balance thanks to medium acidity. Kabola's macerated Malvazija Amfora displays an ample body and a very nice finish that takes its time. Fruitiness is pleasant and soft and spicy and earthy notes add plenty to the overall drinking experience.

Skin contact white wines are generally wonderful food wines. This is the case with Malvazija Amfora as well. Pair it with grilled scampi, roasted poultry, Istrian cream of truffle pasta. There are plenty of good vegan pairings, some of those might be millet patties, red lentil dishes or mixed root vegetable roasts.
Full Video of our Kabola Wines Tasting