Event: Young Wines of Medjimurje 2021
Presentation of Young Wines of Medjimurje Region was this Wednesday and it did not disappoint! Winemakers of Medjimurje, Croatia's northernmost region started with the project of presenting young wines 4 years ago. Wines featured in the project are simply branded as "Mlado" (cro. "young") and their reveal is becoming a traditional November treat for wine lovers in Croatia.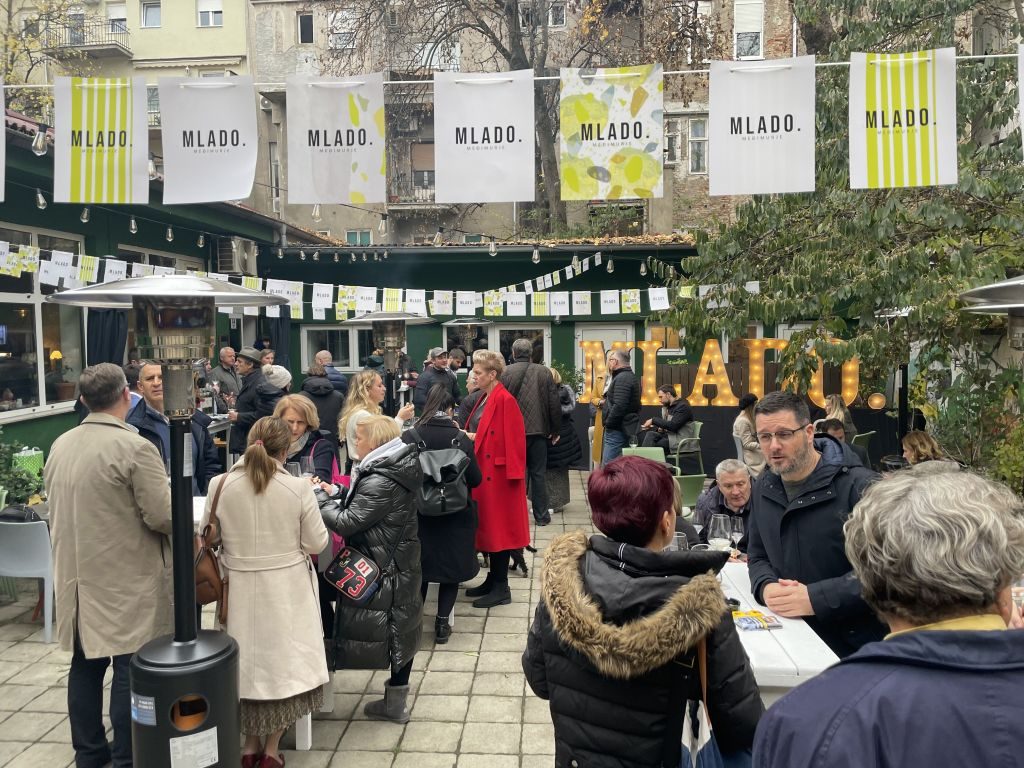 The event itself gathered 9 Medjimurje winemakers. Location was Cogito In the Yard Café (Cafe u Dvoristu) at the centre of Zagreb. Organisation of this event was done by Vinart, which is usually a guarantee of everything running smoothly. This was the case on Wednesday as well with the attendees being greeted to a friendly and informal gathering. COVID-19 related restrictions were followed, and a few lovely bites were provided by Cogito In the Yard.
Medjimurje Mlado 2021
When it comes to the wines themselves, they were as expected. Meaning, very well crafted and very pleasant. Mlado wines of Medjimurje are already setting a fine example of how to go about creating wonderfully light and refreshing, but also well nurtured young wines. Most of the wines were dry, 3 were off-dry.
Dvanajscak-Kozol Mlado 2021
Dvanajscak-Kozol winery needs no special introduction when talking about Medjimurje wines. Their Mlado is a blend of Pinot Blanc and Pinot Grigio. It features 11% alcohol content. The wine features delightful aromas of apple and pear with a bit of florals for good measure as well. It is smooth, refreshing and features a medium finish.
Kocijan Mlado 2021
This wine made with 100% Silvanac (Sylvaner, Gruener Silvaner) features only 1,3 grams of residual sugar. It has lovely colour of straw or pale gold. Very dry with fruity notes being complimented by plenty of earthy and mineral notes giving the wine recognisable character.
Jakopic Mlado 2021
100% Silvanac. On the nose it features ripe aromas of ripe red apple. It is fruit forward with pleasant acidity and more noticeable body than some others on offer, which is not a bad thing in this case. Lovely wine of medium finish.
Preiner Mlado 2021
Another Silvanac (Sylvaner, Gruener Silvaner) young wine. It will first hit you with aromas of sweet apple and pear of medium intensity. It features the same medium minus or light straw colour observed in other two wines made with the same variety. On the palate it is fruity and juicy with noticeable, but very smooth acidity.
Stampar Mlado 2021
Very nice aromas on the nose of yellow apple and pear. The wine is of medium intensity and medium minus body. It is very dry, refreshing and energetic. It makes for a very refreshing wine, perfect for food pairing with fresh oysters or fish carpaccio.
Cmrecnjak Mlado 2021
Made from Rizvanac variety (Müller-Thurgau). Colour is greenish going to pale gold. It is delightfully floral on the nose. Noticeable aromas of elderflower, green fruits and almond are reminiscent of Sauvignon character. This is another dry and refreshing white. With the aromatic profile a bit more substantial than many others in this line up it works great as a food wine and palate cleanser, but also as a refreshing wine to have on its own, well chilled, of course.
Horvat Mlado 2021
Pinot Blanc 100%. It is a semi dry wine. Aromas on the nose might be shy with apple and citrus dominating. However, the mouthfeel is wonderfully pleasant with ample acidity bringing the wine in balance.
Knehtl – Medenjak 2021
Gruener Silvaner 100%. It features 12,5% alcohol, making it the strongest wine of the line up. It is an off-dry wine with around 10 grams of residual sugar. On the nose it features aromas or apple chips, dried yellow fruit, hint of earthiness and minerality as well. Pleasant mouthfeel. Fruity and juicy. Very nice wine to pair with much of the winter food continental Croatia is known for.
Kuncic Cuve Mlado 2021
Sauvignon Blanc 40%, Charonnay 40%, Moscato (Muskat zuti) 20%. Pale colour promises a light wine. 8 grams of residual sugar amps up the body a bit, but still keeps it under medium bodied. It is fairly complex on the nose with ripe apples, florals and stony notes. There is a very welcomed hint of bitterness on the back palate as well. It is wonderfully balanced and makes for a great food wine.
Successful Event
I managed to chat for a bit with Sasa Spiranec, the head of Vinart and one of the country's leading wine experts. He confirmed the event is a success, but also the entire project of Medjimurje Mlado wines. In 4 short years well organised winemakers from this Croatian region managed to leave their mark on the national market with their young wines. Eagerly anticipated reveal of the first wines of the new vintage is quickly becoming a welcomed tradition. Indeed, what better way to chase away the autumn gloom than with lively white wines, perfect to put a bit of pep in your step?
Mr. Spiranec also commended the winemakers for being able to present young wines to the public that are well balanced, very well crafted and without any flaws. This is a very important note to make in conclusion of this story. All the wines presented were very much ready to be enjoyed by the consumers and featured no aggressive acidity. They are wonderful wines to enjoy on their own and amazing food wines as well. They are best in the following 6 months, but can also hold for a year or two without a problem.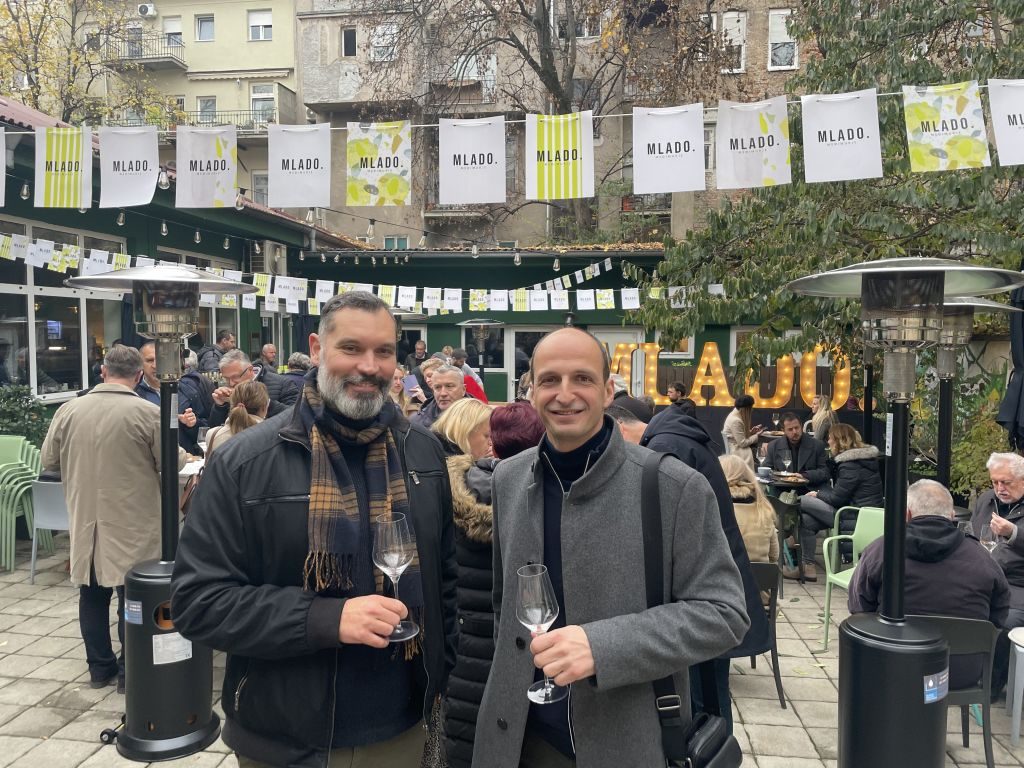 Don't Miss Young Wines of Medjimurje
There are plenty of reasons to visit Croatia in the colder months. Young wines of Medjimurje might not be reason enough on their own, but visiting magical Medjimurje region itself and enjoying these wines straight from the source just might be.